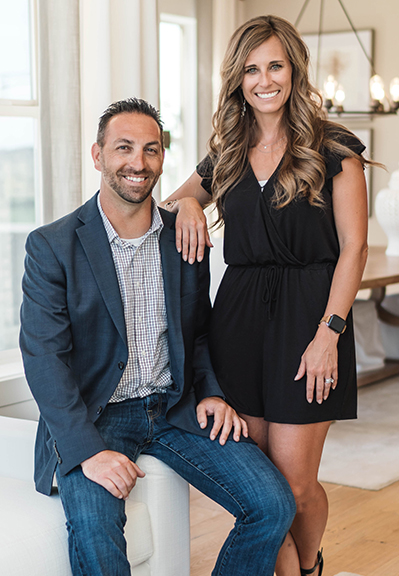 Melissa was born and raised in Aurora and is a proud Colorado native. After working as a teacher for 13 years, Melissa fell in love with real estate. Her community focus and commitment to helping others created a seamless transition into this exciting business and has allowed her to remain an active and vital part of the community.
Born and raised in the great state of Colorado, Chris has always had a passion for real estate. Right out of high school, he started in the industry as a transaction assistant, helping agents and their clients stay organized from contract to closing. Shortly after the events of 9/11, Chris ventured away to pursue his own business in marketing. During that time, he was recognized as one of "Colorado's Most Influential Young Professionals" by ColoradoBIZ Magazine, and he was awarded the "Brighton Rotary Business Ethics Award." With Chris' continued success in marketing and sales, his interests in the home improvement industry and landscape design have brought him back to real estate, where his expertise and passion go hand-in-hand.
Chris and Melissa have four children: Mariah, Nathan, Addison, and Jemma. In their spare time, they enjoy camping and boating with friends and family, coaching their youngest daughters, Addison and Jemma, in basketball and softball and supporting their two oldest children, Mariah and Nathan, in their future careers in cosmetology and sports journalism.
With a passion for service and education, Melissa and Chris are ready to help with your home buying and selling needs. Their values of hard work, integrity, compassion, and outstanding customer service combined with their relentless commitment to producing results are the perfect mix for guaranteeing successful outcomes for their clients.
For more information about this incredible couple, visit their personal site here.
Email: chris(at)thenewdoorgroup(dotted)com
Email: melissa(at)thenewdoorgroup(dotted)com

Melissa & Chris are awesome and really great to work with. They work hard and work with you every step of the way no matter what day or time it is. They have gone above and beyond any realtor I have ever worked with. I would highly recommend them to anyone and everyone.

Shannon Nunley
Chris and Melissa are absolutely incredible. They went the extra mile for my wife and I and it made the buying and selling experience seamless. They were patient with us, answered all our questions, and often times were answering questions before we even asked them. There is no one we would trust more to buy and sell property with than Chris and Melissa!

Tony Pacifico
What a wonderful and professional couple to work with. Personable yet efficient in doing their job of helping me sell my home. I would recommend these people to everyone. Thank you Melissa and Chris for all your help!!!

Connie Haseloh
We are so fortunate to have Melissa & Christopher serving US, and not their own self-serving agendas (as they continue to demonstrate through personal action and not lip-service). We are very grateful for their Compassion, Dedication and true Servant Hearts, while consistently helping us to find our perfect Home.

Mary Backlund
Working with the Lombardo's has been an absolute pleasure! They are quick to address their buyers concerns regarding the process for their new build home and are incredibly responsive with those of us working on the other side to ensure that we have what we need. We look forward to working with them again in the future!

Cora Papas
My wife and I entered the process of buying a home with some fairly tight limitations. Our timeframe was tight with just under 2 months to look at, decide on, and close on a home. Our budget was limited. Our commute time was also a big factor. Chris and Melissa were not the first or only Realtors that we talked to. I feel totally blessed to have found and chosen them. As a team, they didn't waste our time with properties that were out of our price range, didn't wave the features we wanted, or were outside of our commute distances. Once we found a property, they worked tirelessly to get our bid in and accepted. They kept us and the sellers on task, on schedule. A process that can be stressful, was made less so through the diligence, love, care and seamless teamwork these two amazing humans bring to the table. I highly recommend the Lombardo Home Team to anyone looking to start a new chapter in their lives.

Bill Bergeron
Chris and Melissa are simply amazing people, not only amazing realtors. They go the extra mile and above and beyond to make working with them a breeze. They were diligent and proficient and kept your best interests in mind when buying a home. I was so picky and indecisive on what I wanted, and Chris showed me a ton of properties until we found what was going to work. Chris stepped in when I was unable to be there and made sure that I was able to view the homes along with my mother. Chris went so far as going to my inspections just to make sure everything went smoothly. Melissa is amazing at getting all the paperwork done correctly. Chris and Melissa Lombardo are definitely your go-to realtors!

Michelle Bobian
Melissa and Chris did an awesome job handling the sale of my home. I was transferring out of state for my job with a short turnaround time and they took care of everything. Very professional and knowledgeable about the process and made things very easy and stress free for me. I would highly recommend them to anyone planning on buying or selling their home...Two thumbs up

Mark Dolecki