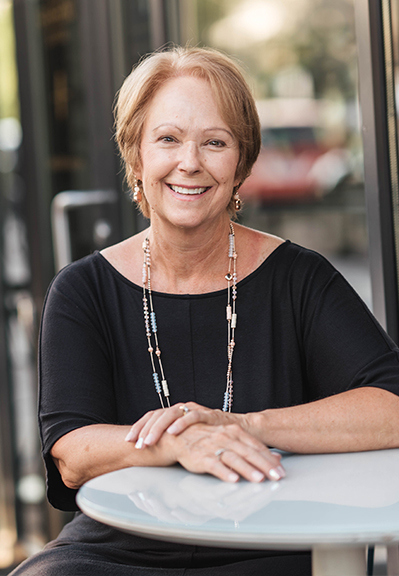 "Home is where the heart is," is not just a cliché for Patty; it is a sentiment that truly defines her! Her childhood memories include their home in the country as well as temporary homes where we lived as itinerant ministers, traveling the United States. Through different seasons and different styles, memories have been created, shared, and cherished. She incorporates into her professional life the things that are most important in her personal life: faith, family, and home. Four years ago, she began working with Keller Williams and was named Rookie of the Year. She is passionate about the rewarding work of helping families, couples, first-time buyers, or transitioning seniors find the perfect home where they can feel safe and begin building new memories. Based on several personal life experiences, helping senior clients has a very special place in Patty heart.
She and her husband, Brad, have been married for 38 years and have three amazing sons, a lovely daughter-in-law, and three beautiful granddaughters. Their hobbies include music, cooking, mountain exploring and riding four-wheelers. They have a passion for traveling and try to find themselves aboard a cruise ship heading toward tropical locations as often as they can. Patty's faith in Jesus Christ is a central focus in her personal life and is a guiding light for how she conducts her business. Trusting Him to direct her life has never failed her.

Patty was an outstanding listing agent! She had great advice for what I needed to do to get my home ready to show and listed. I had a specific buyer in mind and when the offers came in she didn't pressure me to go with the first one. I was fortunate to multiple offers and was able to pick the perfect fit for the home I loved so much! Patty made the process so easy and stress free I have already referred her to other family members and will continue to do so!

Anne Marcon
Patty listed our townhouse and did a great job. Her customer service and professionalism were impeccable and she is also very warm and friendly… a nice combination. She had great pictures taken of the home, got us on the market quickly, held a nice open house and we had a contract that day. She represented us well in the negotiations and we closed without a hitch. We highly recommend Patty and would work with her again should be in the market for a new home. Thanks Patty!

Sincerely, Jay and Linda Dahl
Our long-range goal became a dream fulfilled, literally over night! We wanted to help our adult son, who has a diagnosis of Autism Spectrum Disorder and was living with us, to achieve greater independence. We had expressed to Patty Whittington our desire to help our son purchase an affordable home where he could move forward in life on his limited income. Patty described some areas where condominiums might be affordable for us and gave us online information for several. By the next morning, we were viewing one great option and, over the course of a couple of days, making comparisons in our price range. She was accommodating -not only to our budget concerns-but sensitive to our son's desires, interests, and limitations. Patty has a great eye for detail and helped us with honest assessments about the properties we viewed. Although she helped us have a contract in place quickly and efficiently, she did not make us feel pressured. In fact, she encouraged caution and thoughtful comparisons to ensure we would be happy about our decision to purchase the very first condo we viewed. And now a few months after the purchase and our son's move-in, we are all delighted with the condominium and its impact on our son's happiness and wellbeing. Without hesitation, we highly recommend Patty Whittington to be your real estate agent. She will thoughtfully consider your lifestyle and any special needs to help you reach your goal of home ownership.

Jim and Gina Brummett
We met Patty at an open house in Lakewood. It was as though it was meant to be meeting her at that open house. We had been shopping for a home for over 7 months with a different realtor, very frustrated and disappointed with our current realtor, I explained to Patty how he worked with us. Described how we felt that we were working for him, instead of him working for us. Further explained that we had to get in touch with him if we wanted to tour a home, constantly online looking for ourselves. We started working with Patty a couple of weeks after the open house. She was amazing to work with, constantly sending us listings and always available for showings. Very patient and easygoing with us throughout the entire process. Working with Patty we were able to find the perfect home in 2 months, which is amazing in this market! Patty is committed to helping people find their dream home. She works very hard to make sure her clients are extremely happy. I would and will recommend her as a buyer or sellers' agent! We will be calling Patty again when we are ready to sell or buy again!

Tim and Gina Keller
Working with Patty was absolutely awesome! Being a part of the industry, I had high expectations from a Realtor and she by far went above and beyond those expectations. She was dedicated and patient with us and wanted to make sure my family found the perfect home for us. She truly had our best interest in mind and made it feel like we were working with a friend. I would highly recommend Patty to anyone wanting to buy home!

Anne Marcon