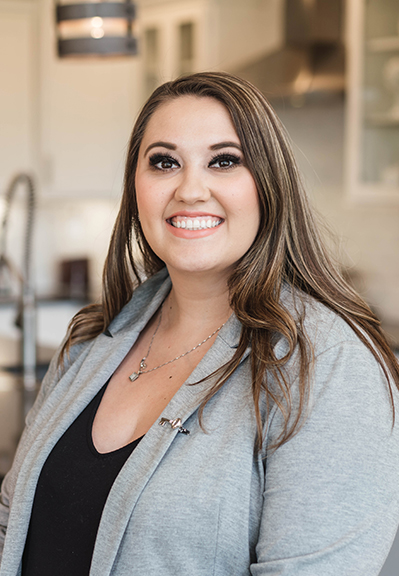 Lindsey is a Colorado native who has seen all the changes in this market over the past few decades. Lindsey grew up in Westminster and her parents still own her childhood home. The love and stability she always felt in this home became a motivating factor in her decision to pursue a career in real estate. The connection to the neighborhood and the relationships she still has with the people there became an important part of who she has become. Today, she and her husband, Will, live in Brighton with their three children. As a hardworking mother she has experienced firsthand how important homeownership can be for families.
Her vast knowledge and expertise in the Denver real estate market gives Lindsey a distinct advantage and she prides herself in being a trusted advisor to her clients. She works hard to find creative strategies to help clients find the home that is right for them.
Lindsey and Will were married in Beaver Creek in 2016 and it's still one of their favorite places to visit each year. They also love traveling to Mexico as often as possible. They love the beaches and Will has family in Mexico City.

Lindsey was very attentive to our needs. She worked around our schedule for showings in all corners of the metro area. We were constantly sent new properties that matched our criteria, and again, she was very accommodating to our schedule for showings. Lindsey was patient with us when we didn't like the property's we saw and always kept a happy demeanor, and professional attitude. We love the new house we purchased and look forward to raising our family there. We will be recommending her as an agent to our friends and family. Thanks again Lindsey.

Lisa Harrell
It started out with a google search for realtors. Throughout the process of buying our home, Lindsey Beas became more than just our realtor. She is an interior decorator, marriage counselor, cheerleader, financial advisor; and now, family friend. She does it all. However, the most important role she took was as a skilled negotiator. Her communication skills and professional relationship with the seller's realtor put our offer above the others. Now, we have our dream home, better than we had ever hoped for. Lindsey was the only one who could have done this for us. She is the best.

Carrie Williams
I had the pleasure of working with Lindsey on a 30-day closing in Montrose, CO (5 hour drive from Denver) but the distance never hindered anything. She was available via text, call or email which was really convenient for me during military training and work schedule. She is highly informative, professional, and kept me up to date on every step. She informed of the documentation needed and ensured it was completed in a timely fashion. I was at ease throughout the process and I'm grateful for her hard work and recommend her to anyone.

Soledad Guzman
Lindsey is extremely efficient and meticulous in every aspect of the sale! Her availability and response time are excellent. She got our property under contract in 5 days and closed in 30 days with zero complications! I can't imagine working with anyone else.

Tamara Teubel
Lindsey was a great agent to work with. As first time home buyers we were very overwhelmed with the whole process but she was incredibly patient and understanding, and helped us through the process when we found a place we wanted to make an offer on. She was with us until the end and made herself available whenever we needed her.

Aldo Armas
Lyndsey is the best and most of all she has a great personality whenever I needed any questions answered she responded promptly no matter the situation or what time of day or week I highly recommend Lindsey to be anyone's agent thanks again for everything that you have done for me and my family over the last couple years

Isaiah Sanchez
We used Lindsey last year when we sold our home. She did such an amazing job we knew we had to use her to purchase our next home. Lindsey went above and beyond to make us happy and made the home buying process easy and stress free. We couldn't be happier with her and will recommend her to everyone we know! Thanks Lindsey!

James Holderness
Lindsey is an amazing realtor. She is always there to answer any questions and makes the process easy as possible. We started out with another realtor and because of the lack of attention and assistance we lost what we thought was our dream home, at the time. Once we meet with Lindsey that all changed. Lindsey took the time to get to know us, what we truly wanted (even when we didn't even know, what we wanted) and even asked for our kids what they liked or didn't like about each house we seen. After a 3-day weekend, Lindsey found the house of our dreams, and did everything in her power to get us the right price and now we have a home! I would recommend Lindsey, and definitely work with her again.

Krystal Rivera-Edwards