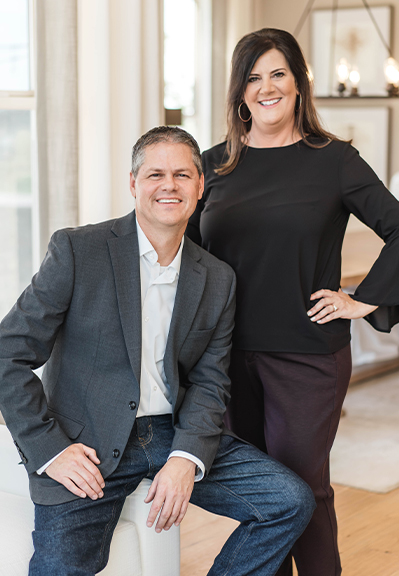 12235 N. Pecos Street, #300, Westminster CO 80234

Team Leaders, Realtors®, Broker Associates
Send Me A Message
Amy:
Amy has been in the real estate industry in Colorado now for over 31 years. She knew from the time she was in first grade that she was either going to be a Dallas Cowboys Cheerleader or a real estate agent. She started off working as a Leasing Specialist right out of high school. She then spent 9 years with a nationally acclaimed home builder, John Laing Homes, working as a Home Counselor before becoming the Sales Manager of the Denver Division. She has been in residential real estate as a licensed Realtor® since 2005. She is the team lead of The New Door Group, a team of 20 agents with Compass. She has received numerous awards in the industry for top sales performance and customer satisfaction. She has been recognized by 5280 Magazine as one of their 5-Star Real Estate Agents and Real Producers magazine as one of the Top 30 agents in Denver. Since 2015, she has finished in the top 75 agents in the Denver metro area for total sale production (out of more than 25,000 agents).
Her consistent track record of proven residential sales success along with my strong background in new home sales, make Amy the perfect Realtor® for any of your real estate goals. However, as enjoyable as awards are to receive, it is more important what her clients say about her. She focuses on creating solid relationships with her clients throughout their process. Her goal is to create clients for life through solid communication, honesty, and unparalleled expertise and she is pleased that many of her clients have become personal friends. She would love the opportunity to earn your business.
Email: amy(at)thenewdoorgroup(dotted)com
Sean:
Sean is a Colorado native who grew up in Fort Collins, CO and graduated from Colorado State University in 1992 with a degree in accounting. Sean's desire to help people lead him to become a Police Officer not long after graduating college. Sean spent 5 years as a patrol officer before he joined the Colorado Division of Gaming as a Criminal Investigator.
Sean received his real estate license in 2007. Although he remained working for the State of Colorado, he assisted Amy with various aspects of her real estate career. Sean took an early retirement in early 2019 and joined Amy as a full-time Realtor with The New Door Group. He's enjoys getting the chance to help people in an entirely new way.
Sean and Amy married in 1996. Their two kids, Derek and Taylor are both living in Arizona while going to college. While not working, Amy and Sean love traveling and spending time with to their three dogs, Gunner, Stella and Mack.

Sean helped me purchase a condo for my son in CO. I live out of state and had to navigate the purchase process from afar. Sean was very responsive to our phone calls, text messages and emails. He was always available on weekends to show my son condos. The automated emails of listings he set us up with was fantastic. We were immediately notified when properties were listed in our price range and preferred location. Sean was never pushy since he understood our list of "must haves." Once we found the perfect condo, he negotiated a fair price for us. His team, including Vana, was really helpful in getting us ready for the closing and making sure we had all of our documents in order. When it came to the closing, he was flexible about the location since I was flying in and did not want to leave downtown Denver to go to a suburb for the closing. I would highly recommend Sean.

Mary Stuart Burrell
Sean was amazing, both him and his wife Amy made this process extremely easy on us. As first-time home buyers we were unaware of the process, Sean and Amy broke things down, answered any and all questions, and were extremely knowledgeable and professional. I would recommend if you're looking for an agent to reach out to them! They have not only become our agents but also friends!

Alex and Molly Anaya
Amy and Sean went above and beyond for my husband and I. Not having sold a house before, we were out of our comfort zone and very nervous. Amy was able to calm us down and held our hands through the entire process. They were available whenever we had a question or concern, even in the evenings and weekends. They called to check in on us throughout the entire process and made us feel like we were the most important clients they had. Before we listed our house, they had a professional walk through and make a list of items to get done to make our house look fantastic and to sell faster like re-arranging furniture and hanging pictures on the walls. We followed everything on the staging list and our house looked amazing and sold for the second highest price of all the houses in our community! After the horrible experience we had when buying this house, selling this house was so simple and free of stress. I have recommended Amy and Sean to everyone I know and will definitely reach out to them again if I need to buy or sell another house.

Racheal Liane
Amy is the most amazing person to work with. She was completely professional from beginning to end in processing our listing and sale of the house. She has a wonderful disposition and and patience to tackle whatever challenges came up to get us to settlement on time and with the best results. We would be happy to refer her to prospective buyers/sellers in a heartbeat!

Emmerich and Joan Zach
I couldn't ask for a better Realtor than Amy Ballain. Her demeanor is unlike any other Realtor I've met, and I've met a lot! Amy is personable, compassionate, and genuine. Amy sold my condo fast and is helping my fiancé and I buy a new build. Amy will work hard to make you happy. I will use Amy for any future Real Estate needs and refer her to anyone who is looking for an outstanding Realtor. I can't say enough great things about Amy, she's been absolutely wonderful!

Angela Smith
Amy is a true professional. She has sold several homes for us ranging from starter home to a higher end home. She is professional, knowledgeable, and always tough when she needs to be as well as very personable and a delight to communicate with. We would never hesitate to hire or recommend Amy for any real estate transaction.

Sean and Jaime Feran
Amy is one of the best real estate agents that I have worked with to date. She is highly professional, very effective in her marketing strategy and is superb in maintaining constant communication with the clients. The overall transaction experience was very satisfactory thanks to Amy's competence and dedication.

Hieu Nguyen
Amy Ballain is one of the most special people I've ever met. I am glowing writing this recalling our experience working with her just two days shy of a year being in our first home that we OWN! My husband and I had started the house hunt a year prior to meeting Amy and felt so intimidated by the process, we stopped looking after a few weeks and signed another rental lease for yet another term. Then comes Amy to the rescue! She put her heart and soul into making sure our experience was seamless by guiding us through each and every step. For every need we had from lending to inspection to just recently a general contractor for some renovations - we STILL use the vendors and contacts in her network! Amy spent such quality time with us ensuring we were taking note of things we wouldn't have known to consider being first time home buyers. In the negotiation stages, she was always our best advocate and made sure we understood each step before progressing to the next. One other thing I love about Amy, while she is seriously ALWAYS available, if she has a personal or professional commitment elsewhere - she has a whole team who can jump in and assist when needed! A year into our new home, we could not be happier with our decision to link arms with her. I cannot imagine working with anyone else in any of our future homebuying needs!

Eddie and Matt Watson
Amy is hands down the best realtor we have ever worked with. She gave us excellent advice on pricing, staging, negotiation and what we should address/fix to get the property ready to sell. She communicated clearly and consistently and while I am sure she is handling a ton of clients all at once, I always felt like she was 100% focused on me during the sale.

Zev Barsky
Amy is just incredible!! She and her team overlooked no detail in the selling of our home. They met us ahead of time for a great interview, took fantastic pictures, listed it during the slowest time of year and had a contract for us within days. There were a few final negotiations to be done, and she handled them flawlessly, even some from a vacation with her family. We were informed at every point, and they returned every call or email promptly Plus, we were out of state for the closing, and they handled every detail, without us being there. I seriously cannot think of one thing that could have been done better!!

Joe Klassen